October is the time of the year that will urge you to watch or play horror movies and games. To do justice with this time, you should try the Best Zombie Games on Android that are more terrifying than watching a movie. These games will take you to the next level of dreadful experience. As you play these games, you will feel the intensity of survival for real. So, fully charge your android device because these zombie games will not allow you to lose focus. 
Zombie Games are evolving day by day. Most zombie games are either survival or shooter games. But you can see zombie games in almost every genre of the games, holding diverse background stories. Here are some of the Best Zombie Games on Android in 2023 listed below, all of these are free to download and have exciting and engaging gameplay with a realistic story.
Dead Trigger 2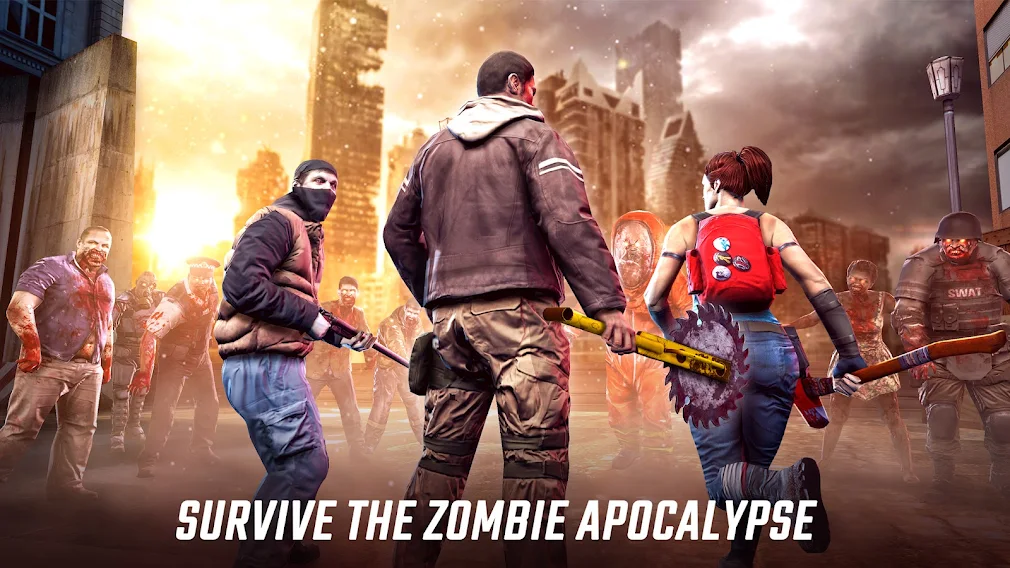 In Dead Trigger 2, you will face a massive size of zombies. In this first-person shooting game, you must shoot down the zombies by targeting their faces and saving yourself and your people. This multiplayer game will allow you to blast zombies with the help of other companions. The game combines multiple components like role-playing, zombie apocalypse, strategy, and survival. All of these components will make the gameplay even more adventurous.
There are free resources and unlimited weapons in Dead Trigger 2 Mod Apk. These features will make it easier for you to kill the boss zombies in no time. The modified game will allow you to earn unlimited ammo, unlock all the missions, get your energy bar full, unlimited money, and many other features. 
The Walking Dead Survivors
Among Android Zombie Games, The Walking Dead Survivors firmly hold its position. The Famous TV series inspired this game; most characters are the same as in the TV series. This strategy game gives you a chance to survive from the zombie epidemic. Make sure about the safety of you and the people around you. It is challenging to attack the group of zombies as each one has resisting solid power, but the good thing about The Walking Dead Survivors Mod Apk is that you will get one hit kill feature that will allow you to kill these stubborn zombies in one go. Many mod features can make your gameplay smoother.
Dead Ahead
Make strategies for survival in Dead Ahead because many zombies are making their way toward you. This is the time to confront your fear and fight against these evil zombies with grace. Your survival depends on your skills, be careful and wipe off all zombies with the help of unlocked weapons and unlimited resources you can get by downloading the Dead Ahead Mod Apk for free.
The gameplay of Dead Ahead Apk is obvious. You have to survive to save people around you using different vehicles, weapons, and resources. Play the role of a heroic soldier and find out the zombies to kill them all. Complete all the given missions with easy controls and engage yourself in the story. 
Into The Dead 2
Into the Dead 2 is another game listed among the best zombie games. This game is a blend of endless running, role-playing, and a first-person shooting game. James, the character you will play in this game, is running for his life and keeping his family away from those evil zombies at any cost. You can unlock many weapons while you proceed Into The Dead 2, and you can earn multiple resources to survive this game. Another way to make this game even more exciting is downloading Into the Dead 2 Apk to get unlimited features.
Last Day on Earth: Survival 
The players of Last Day on Earth: Survival Mod Apk has only one goal: stay alive till you can. This MMO (massively multiplayer online) game has a special place in top zombie games because of its realistic gameplay. In this post-apocalyptic game, you will learn every possible survival skill. Although weapons and other survival resources are available in the Mod game, you can use any object open hand to kill the zombies. No one will help you, and you are the only one who is responsible for your life. This life simulation game will give you a frightening experience of the last day on earth. Play this game with your multiple friends and survive for another day with the help of your survival skills.
Unkilled
Unkilled is another best zombie games for Android devices, and this award-winning game has multiple online gameplay. In this first-person shooting PvP game, you must join hands with a special force to clear New York City from zombies. There are five main characters, and they all have diverse abilities. This game has a unique storyline with exciting gameplay. You will feel like doing something significant. Plenty of daily missions are not easy to play, but Modded Unkilled Apk brings you exciting features like one-hit kill. Unlimited weapons, auto-reload, and many other interesting features.
State Of Survival: Zombie War
The State of Survival has a post-disaster story, as the zombie virus contaminated the land, and people are becoming terrifying zombies. State of Survival is an amazing android game that will allow you to develop a zombie-free city in which the survivors can live fear free. There are many adventurous missions that you need to complete within a time frame. Still, the Mod State of Survival Mod Apk will deliver an outstanding feature of unlimited stamina, which will help you achieve the mission without fearing death. If you don't like any task, you can autocomplete that mission in the State of Survival Apk. Many other unique features make this game rank top among other zombie games. 
You can also team up with other players to kill the zombies to make your land zombie-free. Your primary goal is to resume human life on earth. You will earn unlimited Biocash, food, and other significant resources in the game. Try every survival strategy to escape from this zombie tragedy.
Which zombie game would you like to play?
All these zombie games mentioned are ranked at the top of the list. Some of them are old but still keep their place among the best Android zombie games. There will be no better option than play an action-packed zombie game in the comfort of your room. Please let me know which zombie games you will play immediately after reading this article. These best zombie games on Android in 2023 will kick start your new year with a lot of adventure and thrilling experiences.